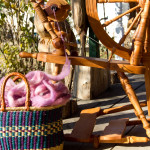 We are proud to carry Kromski spinning wheels and use ours on a regular basis here at the farm.We believe that these wheels are beautiful, well made and spin fabulously. We also love that the Kromski Company stands behind their products and has an excellent customer service record. We also carry spinning accessories including niddy noddies and Lazy Kates.
All wheels come with wheel oil, 3 bobbins and assembly directions. We at Three Creeks also include a tote bag, 8 ounces of roving to get you started, a niddy noddy or extra bobbin and spinning lessons if needed with every wheel that you buy through us. All wheels come either unfinished or in a factory finish: clear, walnut or mahogany. New for a limited time, Sonatas are available unfinished. We also occasionally have custom finished wheels like the one in the photo.

We can have them shipped directly to you or we can deliver to the Middle Tennessee area or any event we are attending. We also can get any other products from the Kromski product line. Kromski wheels are some of the best spinning wheels around and will last for many generations with proper care.
The Kromski North America (Kromski NA) website has numerous videos on a variety of spinning topics: How to use a niddy Noddy and understanding ratios to name a few.
Below you'll find links to all the Kromski spinning wheels we sell but if you have any questions don't hesitate to contact us; we'd love to help you find the right wheel and get it to you quickly so you can get to spinning!
The Sonata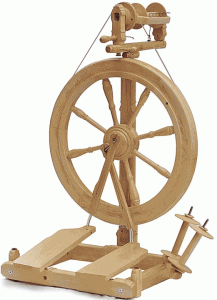 The Sonata is a full-size spinning wheel that folds into a small and compact package. It is perfect for traveling, guild and festival gatherings or simply storage. It has a solid feel and footprint with plenty of foot room and easy treadling on double treadles. The orifice is at a comfortable and adjustable height. It features attention grabbing spokes with cuts, curves and character in every piece of wood.
A custom-made, heavily padded bag is now included.
Optional flyers can add to the total range. The Jumbo Flyer offers lower ratios and a larger orifice (.70?), and the Faster Flyer increases the ratio range up to 18:1.
Details
• The Sonata is now available unfinished
• Wheel diameter: 19?
• Folded dimensions: 22? by 19?
• Orifice: Height 30? (can be raised as much as 2?), size – 3/8?
• Bobbins: Three included that will fit all other Kromski wheels. Kromski bobbins have yarn capacity that is 50% greater than many other popular wheel bobbins.
• Single drive with Scotch tension
• Includes threading hook, attached Lazy Kate and bottle of spinning wheel oil; uses an elastic drive band
• Ratios: 6.7, 12.5, 14 to 1; see optional Jumbo and Faster flyers below for other ratio ranges.
• Ball bearings on wheel crank; flyer bearings are custom designed injection molded parts engineered by Kromski for excellent performance.
• Weight: 11.5 lbs.
$749 for Clear, Walnut, or Mahogany finishes or
$679 Unfinished