We have a variety of items for sale. Beth has hand-spun yarns and her felted creations. Steve has a variety of his hand forged iron products such as campfire sets, hanging hooks and  candle holders.
Most of the items are made to order, as we don't keep a full inventory of all of the items we offer. Hand made items vary slightly from item to item and although we will try to make the items as close to the photograph as possible, there will always be some slight differences.
Tennessee residents must pay sales tax (sorry) and shipping will vary from item to item. We generally charge what it costs us to ship.
Felted items
Felted Fairies/Angels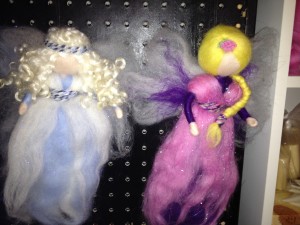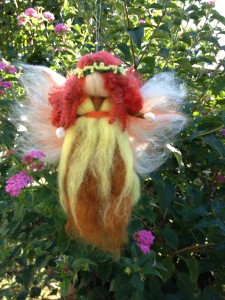 The fairies come in 2 sizes. The large fairy is 10-12″ and has more embellishment than the smaller version. The hair can be braided as seen in the photo on the left or in "wild" locks like the one in the center and the light blue on  on the right. They can be ordered with any hair color or style. Skin color can be light, medium or dark. I generally use two colors for the dresses. The available colors can be seen at here .
The mini fairies are 6-8 inches in length and are more simple
Large fairies are $22 and mini fairies are $15
Shipping is about $6
Dragons
The dragons are about 6-8″ tall. They have jointed arms and legs and "fire" in the form of mohair locks. The are not durable and won't hold up to a lot of heavy handling. Pick the color combination. These re custom made so it takes about 2-3 weeks to complete an order.
$45
Gnomes
Gnomes are about about 6″
Felted Wizard
My wizards are made to order. The gray wizard (don't want to use a trademarked name, but I'm sure you know who it is modeled after) is about12′ tall. His staff is made out of corkscrew willow and his beard is wool locks. I can do other color variations, but I think this one looks the best.
The other is in the eye of the beholder. I made him to look like a Dwarf on the Hobbit movie. Someone else saw him and Thought he looked more like the other wizard. his hair is Corriedale locks dyed orange. He can have a staff or a sword.
Either is $45
Please allow a minimum of two weeks for me to complete.
Viking or Dwarf
These guys are about 6″ tall and can have a variety of combinations of hair color and clothing color.