Description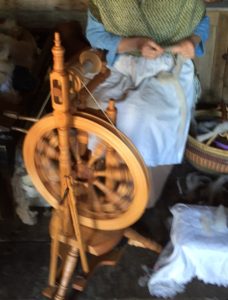 This class is for beginners who would like to learn to spin. Participants will go home with a small hank of their own yarn and a drop spindle.  The class covers wheel set-up, drafting and Andean plying. Wheels are provided, but bring your own if you have one (let the instructor know if you will be bringing your own wheel). All materials provided.  The minimum age for this class is a mature 9 preferably 10.
Class Fee:  $50
Maximum number in a class is 5.
Class Date Sunday July 28, 2019 1-4 pm
Instructor Bio
Beth Collier-Shafer has been spinning for over 15 years. She and her husband Steve own Three Creeks Farm, a small family farm in Charlotte, TN where they have sheep, goats and a variety of other animals. They also sell their fleeces, roving and spinning related products. Beth has done numerous spinning demonstrations often dressed in 18th century or civil war era clothing and enjoys sharing her love of spinning with anyone who will listen. She also needle felts and does various types of dyeing including natural, food coloring and chemical dyes.