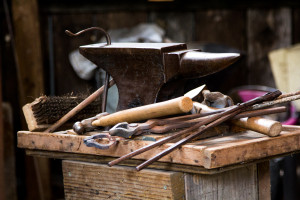 Our blacksmithing classes at Three Creeks Farm included introductory sessions for complete beginners who have never picked up a hammer.
You'll learn the art of blacksmithing on a real working farm, with hands-on personal instruction as you learn how to make a variety of hand-forged items.
Space is very limited in our blacksmithing classes and they fill up extremely quickly — we recommend that you register and pay online for your class as soon as possible to save your spot.
Blacksmithing: If you're interested in being emailed when we post new classes, please subscribe to our Blacksmithing class newsletter.
Upcoming blacksmithing classes:
Below you'll find some more information about our classes and general philosophy. All classes are held here on our working farm and typically have no more than 4 students.
That means you'll get plenty of instruction time and classes are designed so that you'll be able to make and finish a project to take home with you.
Beginning Blacksmithing
Our Beginning Blacksmithing class is the most popular, giving you a basic history of blacksmithing and showing you the tools of the trade.
All materials, supplies, and tools are included in the class fee; you just need to show up with a willingness to jump in and get your hands dirty at the forge!
You'll learn basic blacksmithing techniques such as drawing out, twisting, and splitting.
Each beginning student will work on a piece during the class — usually a decorative hook or similar item — that they'll finish and take home.
Intermediate Blacksmithing
Our Intermediate Blacksmithing class extends the skills you learn in Beginning Blacksmithing, with this class focusing on splitting and shaping techniques. Students will forge a fire poker and a heart hook.
Advanced Blacksmithing Techniques
Students will advance their skill by learning new decorative techniques and use these skills to create functional items such as candle holders.
Students must be comfortable with twisting, curling, splitting and shaping.
Blacksmithing Demonstrations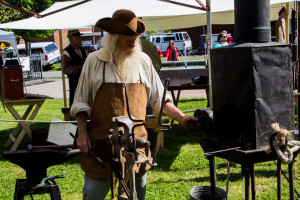 We also conduct blacksmithing demonstrations and frequently travel to do period blacksmithing and spinning demonstrations throughout Tennessee.
We sell Steve's hand-forged work in our shop including colonial period ironwork and other decorative and functional items.
He also is available for custom blacksmithing work and projects such as decorative pieces, hinges, and more.