Adventures in Felting
Shortly after getting  sheep, I took a week long felting class and I has been hooked on the craft every since. I do both needle felting and wet felting, although needle felting is my favorite. I teach workshops at the farm, at local venues and festival across the southeast. I also make and sell a variety of felted figures. Below are some examples of some of my work. I can make items on request, but it may take up to 2 weeks to complete the item to your specifications.
I also sell felting supplies both online and at our shop. If you don't see what you need, let me know and I will let you know if I carry what you need. tn3creeksfarm@gmail.com
 My Felted creations
I have made a wide variety of felted figures over the years. If you would like me to make you one,email me at the above address.
Most of the items are made to order, as we don't keep a full inventory of all of the items we offer. Hand made items vary slightly from item to item and although we will try to make the items as close to the photograph as possible, there will always be some slight differences.
Tennessee residents must pay sales tax (sorry) and shipping will vary from item to item. We generally charge what it costs us to ship.
One of my favorite pieces is the Gray Wizard (Gandalf). I made several. He stands 9-10 inches tall, has natur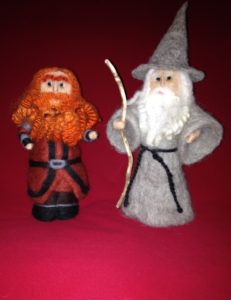 al Shetland locks for his beard and hair and a corkscrew willow staff from one of our trees.
This has quite a bit of work, so if you would like one give me at least 4 weeks
to complete it. Hopefully, it won't take that long,
$65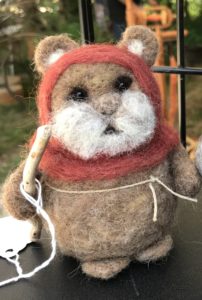 I guess you tell from the subject of my work that I am a bit of a nerd. I love making these little Ewoks. They stand about 6-8 inches tall and also have either a staff or spear. I can make them in a variety of fur colors and hood colors.  Please specify colors or email a photo of the one you would like.
$40
Angels/Fairies – I have made more angels or fairies than I can count. They are in the Waldorf style without a face, are 5-7 inches tall and have a short hanger so that you can hang them on a tree or from wherever you like. They can be customized with skin color (light, medium and dark), hair color and style (smooth and braided as in photos or loose locks) and dress colors. Almost any dress combination is possible. The most popular are "angels" with a white dress, "Elsa like" with a light blue dress with light blue sparkles, and Ana similar to the one in the middle.
$15
 I also make vikings/dwarves, mushrooms, bunnies, sheep, dragons and most anything you can think up.